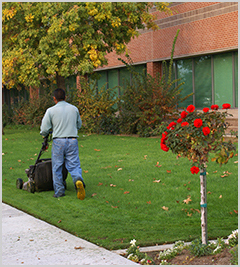 Circle Pines Landscape Management
Is your landscaping doing all it can for your home or business? If not properly maintained, your landscaping can become overgrown and appear unkempt, reflecting poorly on your property. That's where Classic Lawnscape comes in. We understand you may not always have the time to perform essential landscaping tasks, so we take care of the hard work for you. Classic Lawnscape is the trusted name in landscape management for Circle Pines and are here to help keep your landscaping looking its best.
Whether you need our technicians to visit once a month to prune and weed or once a week for more extensive landscape management services, we are here to help! We can fully customize our services to meet your needs. Some of the landscape management services we offer include:
Our landscape management services include:
Mulching and fertilizing
Flower bed installation and maintenance
Removal of dead, dying or diseased plants
Pruning and weeding
Spring cut-backs
Core aeration
Fall blow-outs and spring start-ups
Lawn sprinkler installation, repair and maintenance
Shrub shaping
Pest management and pre-emergent herbicide application
New landscaping features installation
Snow and ice removal
And more!
And, these are just some of the services we can provide. Our team of professional landscapers can also come out on a regular basis to make sure your landscaping and flower beds always look their best.
Give us a call and we will gladly tell you all you need to know about our landscape management company and set up a time to come out and discuss your landscaping wants and needs in greater detail.
Professional Landscape Management
When you need help from the professionals, only trust Classic Lawnscape. We can truly be your one stop shop for everything you need to keep your home's or business' exterior looking its best all year round. From the bigger picture to the smaller details, you will be impressed by our level of expertise, commitment and professionalism.
Our owner has several decades of experience in the landscaping industry, and he is always sure to pass this knowledge along to his employees. You will always get the very best from us, and we will always strive to meet or exceed your expectations.
Give us a call today and we can tell you more about our landscape management services and give you your free estimate. We can work with you to ensure we stay within your particular budget, and we will make sure you get the landscaping you want.
Contact Us about Landscape Management
For more information about landscape management for your Circle Pines home or business, call Classic Lawnscape at 763-780-7231, or you can contact us to get a Free Estimate.