Landscaping Company Circle Pines
Classic Lawnscape is a professional landscaping company near Circle Pines. We offer a wide variety of landscaping and lawn care services including irrigation management, turf management and more. We even offer snow and ice management and removal during the cold winter months!
Let us handle all of your lawn care and landscaping needs: from maintaining and servicing your irrigation system to making sure your residential or commercial lawn and landscaping look their very best.
We are happy to customize our services to meet your specific needs, and we can come out on a scheduled or as needed basis. Just let us know what you need and our landscaping company can take care of it: no job is too big or too small for our team of professional landscapers!
Give us a call to get on our schedule or to find out more about our landscaping company. We are happy to answer all of your questions, and we can even provide you with a free estimate so you know how much you can expect to pay.
Landscaping Company Services
Our professional landscapers can come to your home or business and handle a variety of lawn care and landscaping tasks including: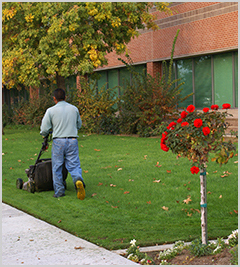 Irrigation system installation, maintenance, repairs, fall blow outs, spring start ups and more
Installation of plants, trees, flowers and more
Pruning, weeding, mulching and fertilizing
Removal of dead or diseased plants, flowers and other plant material
Winter pruning and spring cut backs
Installation of landscaping features
And more!
We are able to handle every aspect of caring for your landscaping, and we work hand in hand with turf managers, property managers, facility maintenance teams and more.
We've been in the landscaping business for years, and we know firsthand just how important it is for the outside of your house, your business or your commercial property looks its best. A nice looking property adds curb appeal and makes it more inviting for guests, customers and others. That is why we always strive to do our very best work for all of our customers.
Feel free to call us any time to learn more about how our landscaping company can help make sure your home or commercial property always looks its best!
Professional Landscaping Company
Do you want more information on our landscaping company near Circle Pines? Call Classic Lawnscape at 763-780-7231, or you can contact us to get a Free Estimate.