Landscaping Company Minneapolis
As a landscaping company serving Minneapolis and the surrounding areas, we are familiar with this area's unique climate and environment. And because of that, we can design and install landscaping that will complement your home or business.
Our landscaping company can attend to and maintain your landscaping throughout the entire year. From spring through winter, your landscape will be well taken care of. We will: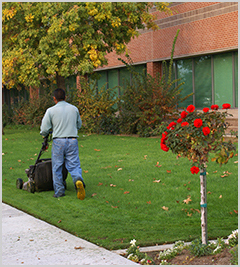 Prune and cut back your plants and flowers in the spring time to make room for new growth
Apply herbicide as needed
Weed flower beds and plants and shape shrubs as needed
Take care of getting rid of insects and other pests that can harm your landscaping
Prune in the winter time to prepare for the dormant season
Edge and mulch flower beds
Apply fertilizer as needed
Install and maintain flower beds and other plants
Remove any dead plant material and put new plant material in its place
Install new landscape features as you want them
And more!
Our landscaping company can help residential, commercial and municipal clients, and our services run the gamut. So whether you just need us to design and install your landscaping or if you want us to go beyond that and continue to maintain it, we can definitely assist with all of that and more.
Not only that, we can tailor our services to meet your needs. We can come to your home or business on a weekly, monthly or bi-monthly basis to ensure your landscaping continues to look great!
About Our Landscaping Company
Our owner has more than 30 years of experience in the landscaping business and he personally oversees every project we take on. He also handles most of the projects personally. Either way, you get all of the perks of working with a small company without sacrificing the high quality of services and products that you'd get from a larger company.
Our bottom line is this: our landscaping company wants to provide you with beautiful landscaping that will make you happy for years to come. And we also want to meet or exceed your expectations while doing so. Customer satisfaction is always our highest priority, whether you are a residential, commercial or municipal customer.
Landscaping Company: Call Us Now!
Are you ready to learn more about our landscaping company serving Minneapolis and the surrounding areas? Call Classic Lawnscape at 763-780-7231 or contact us and get a Free Estimate.