Landscaping Company Twin Cities
Make your lawn and landscape the envy of your neighbors and friends and trust a professional landscaping company to make your Twin Cities lawn and garden look their best!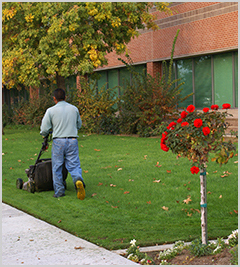 Classic Lawnscape offers a variety of landscaping services, and we can turn your ho-hum yard into a relaxing outdoor oasis. Our landscaping company can take care of tasks like:
Pruning trees, bushes and shrubs
Fertilization
Cutting back perennials and other flowering shrubs
Flower bed installation and maintenance
Removal of dead or diseased plants
Installation of landscaping features
And much more!
We can be your one-stop shop for all of your landscaping needs, and we can customize just about any of our services to meet those needs.
Let us handle the grunt work while you enjoy your new landscaping. Invite your friends over to enjoy it or just relax and enjoy your solitude. No matter how you spend your time out there, you will be happy knowing you hired our landscaping company to handle everything for you!
We can even provide you with a free estimate so you know exactly how much to budget for.
More about Our Landscaping Company
We have more than 30 years of experience in the landscaping industry, and we are very familiar with Minnesota's climate and environment. We know exactly what plants will thrive in this area, and we know how to take care of them to ensure you get as much enjoyment out of them as possible.
We will use as many of your ideas as possible when it comes to your new landscape. And the end results will be ones you are fully happy with!
Our landscapers and other team members will always strive to meet or exceed your expectations. You will be happy that you contacted our landscaping company for help with your yard.
Plus, we can also install, service and repair irrigation systems, and we also offer other services like turf management and commercial snow and ice removal. When it comes to just about any aspect of maintaining your yard, grass or landscaping, we can help!
Just give us a call to learn even more and to get your free estimate.
Professional Landscaping Company
Would you like to learn more about our landscaping company in the Twin Cities? Call Classic Lawnscape at 763-780-7231, or you can contact us to get on our schedule for a Free Estimate.