Lawn Irrigation Systems Twin Cities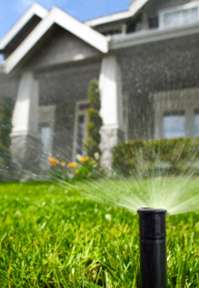 Is your lawn as lush and green as you'd like it to be? Enjoy a better lawn by installing an irrigation system from Classic Lawnscape! It's that simple. Here at Classic Lawnscape, we install and manage lawn irrigation systems for the Twin Cities and can custom design a system to work for you. An irrigation system can help your lawn thrive throughout the growing season and can help make your yard the envy of the neighborhood.
We can work with you or your property manager to help design a system custom fit for your unique landscape. From the design phase through installation and beyond, we will make absolutely sure that your lawn irrigation systems continue work correctly and hit all specified targets. We also make sure they are programmed properly and maintained to last. Classic Lawnscape is there every step of the way to make sure the system is functioning as it should be.
We also take care of other aspects of maintaining and caring for lawn irrigation systems, including:
· Weekly, bi-weekly or monthly system inspections
· Winterization services
· Spring start ups and fall blow outs
· And more
Call us to get a free estimate. We can meet with you to discuss the type of irrigation system your commercial property needs, and we can put you on our schedule as soon as possible to have one installed.
Lawn Irrigation Systems from Classic Lawnscape
We are one of the best in lawn irrigation systems for commercial properties in the area. We have been the trusted name in sprinkler systems for entire area for more than 30 years and our experience makes us one of the best in the business. We believe in developing lifelong relationships with all of our clients so any time they need help with their sprinkler systems, they know they can call us for reliable and professional service.
As a locally owned and operated business, we are knowledgeable about everything that goes into installing these systems and making sure they are properly maintained. At Classic Lawnscape we are very familiar with this area's unique climate and environment, so we know exactly how to put in lawn irrigation systems that will evenly water your grass and landscaping. Each zone of your new sprinkler system will be specifically programmed to water according to that area's needs.
Whatever it is you need, Classic Lawnscape can help! Give us a call so we can discuss your lawn irrigation system's needs and any other services we can provide.
Contact Us about Lawn Irrigation Systems
Do you want more information on lawn irrigation systems in the Twin Cities? Call Classic Lawnscape at 763-780-7231 or contact us to get on our schedule for a Free Estimate.