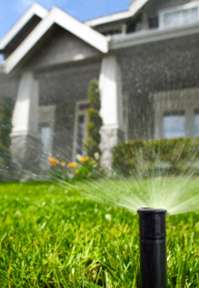 Is your lawn not quite as lush and green as you'd like? You've likely seen and heard what sprinkler systems can do for a lawn, but have you got all the facts? The professionals here at Classic Lawnscape are experts in sprinkler systems for St Paul and are here to tell you more.
First, are you familiar with Rain Bird irrigation systems? Rain Bird offers a cost-effective way to maintain your home's landscaping with minimal effort on your end. When you hire Classic Lawnscape for Rain Bird irrigation system installation, we come to your home, assess your landscaping's needs and install an irrigation system that is customized to your yard and its watering needs. A system like Rain Bird allows us to easily do just that, plus it's easy for you to learn how to use properly. Soon enough, you and your family and friends will be enjoying your lovely lawn and landscaping!
Hunter irrigation is another one of the best sprinkler systems on the market because of its simplicity, value and efficiency. It is an easy-to-use system that is also easily programmed. Plus, this type of irrigation system helps with the investment you have made in your lawn by helping your landscaping to grow healthier and hardier plants that last longer and look beautiful. And a beautiful yard can really help to enhance your home's curb appeal and make your yard the envy of your neighbors and friends.
Here at Classic Lawnscape, we are professionals in the installation, repair and maintenance of these and a wide variety of other sprinkler system brands. Not only do our sprinkler systems save you time on watering your lawn and landscaping, they help conserve water and so much more.
There are several different kinds and types one can use to give their lawn the necessary hydration it requires. It all comes down to your yard, and what type of sprinklers will best water your yard. Unsure which type of lawn sprinkler to go with? Our irrigation experts can help you choose the right one for you.
Give us a call today to get started! Summer is our favorite time of year; when your landscape is alive and thriving, we are in our prime. Our team can set up a routine with you, so your lawn is looking its best all season long.
Interested in learning more about sprinkler systems for your St Paul property? Call Classic Lawnscape at 763-780-7231 or contact us to get on our schedule for a Free Estimate.