Landscape Management Twin Cities
Classic Lawnscape will help with landscape management in the Twin Cities and the surrounding environs. Should you require our technicians once a month to prune and weed or just once a week for more detailed landscape management services, we are here to help! Our services are fully customizable to meet your requirements.
We are able to keep your commercial property's exterior looking its best all year round, so you are always presenting an inviting aesthetic to your clientele and your workers. Our technicians can also design, install and service an irrigation system that will help keep your plants and landscaping looking great for as long as the weather allows.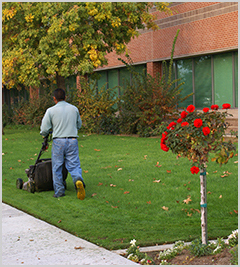 Our landscape management services include:
Flower bed installation and maintenance
Mulching and fertilizing
New landscaping features installation
Pest management and pre-emergent herbicide application
Pruning and weeding
Removal of dead, dying or diseased plants
Shrub shaping
Spring cut-backs
And more!
We work hand in hand with homeowners' associations, property management, maintenance companies and other groups, as needed or required.
Call us today to get a free estimate, or even placed on our schedule. We will gladly answer any questions you have and provide even more information about all that we offer.
Why Choose Us for Landscape Management
There are many landscape management services out there, but we think we are the best for one big reason—attention to detail.
When you call us to learn more about our landscape management services, you will be impressed by the sheer range of detail we cover when it comes to your landscaping. From the bigger picture, like mowing the grass, to the smaller, such as making sure every weed is pulled from your flower beds, you will be impressed by our level of know-how, obligation and proficiency.
We understand just how important it is for your business' exterior to look its best, no matter what the weather is like outside.
Our landscape management technicians will handle every aspect of caring for your landscaping. You will not have to worry or fret about your commercial property's exterior. That job will be left to the experts at Classic Lawnscape!
Landscape Management and More
If you would like more information on landscape management in the Twin Cities, call us at Classic Lawnscape at 763-780-7231, or you can contact us to get a Free Estimate.