It is important that your property, private or commercial, always puts its best foot forward. It is a great way to gain new customers, increase the value of your neighborhood or impress potential new buyers. Your property's landscape is what people tend to focus on, so you should always make it look great. Over our many years in business, we have helped countless property owners like you with all of their landscaping and irrigation needs. We are the trusted landscaping company for Coon Rapids and the surrounding areas and can help prepare your landscape for the cooler months ahead. Here are a few reasons you should consider hiring us before the cold weather hits.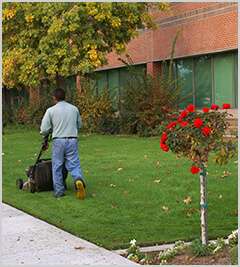 The fall and winter are the most difficult on your landscape. While you might think that hiring a landscape management service is a waste of money, think about how much you might spend on gardening and landscaping in the event your landscape fails to thrive. Come spring, if you haven't invested in landscaping, it may be necessary to spend more to bring it back to life.
For example, finding and applying the right type of fertilizer for your grass can be difficult, especially if you have no experience in this type of thing. But if you hire us, we have professionals on staff who have devoted a lot of time and energy into studying fertilizer, knowing what kind to use for your grass or plants and learning how to apply it properly. If you try this yourself, you might wind up buying the wrong kind or applying it incorrectly. And then you might have to spend even more money trying to undo the damage.
Landscape management companies also save you time. You no longer have to worry about mowing your grass, weeding, pruning or anything like that. You can leave it to us and spend that time focusing on your business or your personal life all year round.
With a landscaping company like ours, you can also save yourself a lot of physical labor. Right now with all of the labor shortages, it may be difficult to find someone to take care of your landscaping. Our landscape management technicians are dependable and do this kind of work every day, and we know how hard it can be to mow the grass, pull weeds, lie down mulch and more. So you can leave the back-breaking labor to us, and we are happy to take care of it for you. And, again, this frees up your time and energy to run your own business, keep your customers happy and have a personal life.
Are you interested in learning even more about our landscaping company serving Coon Rapids and the surrounding areas? Call Classic Lawnscape at 763-780-7231, or you can contact us to get a Free Estimate.